SGAM TOOLBOX
Modelling aid for the Smart Grid Architecture Model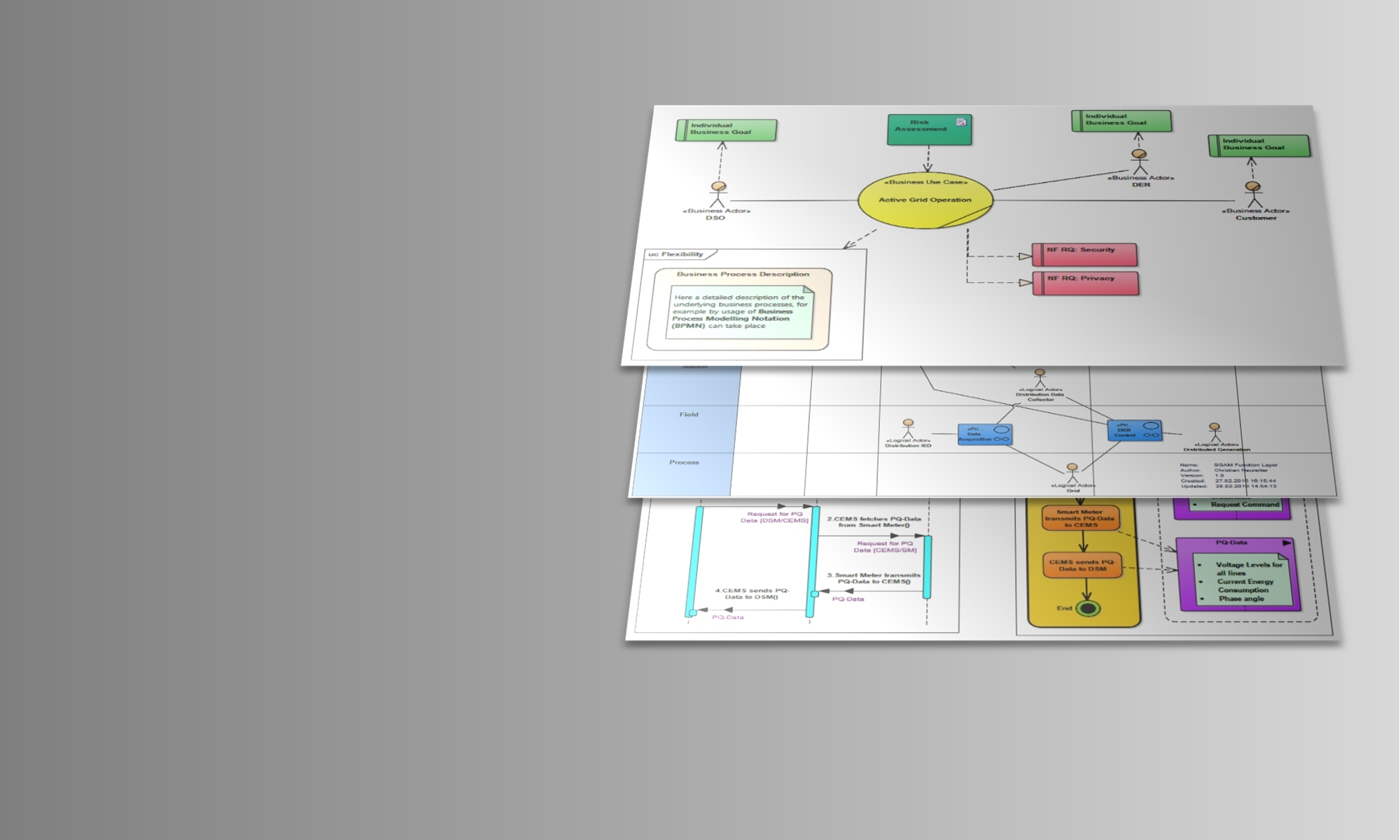 Download
Create your own Smart Grid Architecture Model with the current release of the SGAM Toolbox. Enterprise Architect in Version 9.3 or higher is needed to run this AddOn. After downloading and installing, you will be able to start modelling right away.<\p>
Terms of Use
The SGAM Toolbox is basically free to use (Please recognize the License and Disclaimer at the bottom of this page). In order to support our work, to establish a user-community and to keep you up to date about bug-fixes and new releases, we kindly ask you for two things:
(1) If you use the Toolbox, please contact us and let us reference (Logo) your organization on our site.
(2) If you create scientific publications, please reference our related papers.
Support
If you have any feedback regarding the toolbox, a feature request or if you need further assistance, please feel free to contact us and send a mail.
License and Disclaimer
Copyright (c) 2023 Salzburg University of Applied Sciences
Josef Ressel Centre for Dependable System-of-Systems Engineering
Permission is hereby granted, free of charge, to any person obtaining a copy of this software and associated documentation files (the "Software"), to use the Software, distribute, sublicense, and to permit persons to whom the Software is furnished to do so, subject to the following conditions:
The above copyright notice and this permission notice shall be included in all copies or substantial portions of the Software.
THE SOFTWARE IS PROVIDED "AS IS", WITHOUT WARRANTY OF ANY KIND, EXPRESS OR IMPLIED, INCLUDING BUT NOT LIMITED TO THE WARRANTIES OF MERCHANTABILITY, FITNESS FOR A PARTICULAR PURPOSE AND NONINFRINGEMENT. IN NO EVENT SHALL THE AUTHORS OR COPYRIGHT HOLDERS BE LIABLE FOR ANY CLAIM, DAMAGES OR OTHER LIABILITY, WHETHER IN AN ACTION OF CONTRACT, TORT OR OTHERWISE, ARISING FROM, OUT OF OR IN CONNECTION WITH THE SOFTWARE OR THE USE OR OTHER DEALINGS IN THE SOFTWARE.